Why should I customize my subscription forms?

Simple answer: To increase brand consistency, user experience and highlight your primary CTA.

Your site should offer readers a personalized experience, unique only to you. Going the extra step in creating customized subscription forms allows you the opportunity for brand expression when shaping that experience. Think of the personal touches certain hotel chains offer, the branded shipping some retailers use as opposed to bare boxes. These small details help create a full experience package.

As your subscription form is most likely the premier CTA on your site, the question isn't "Why should I customize?" but rather "Why am I not customizing my subscription forms?"

Getting Started with FeedBlitz SmartForms

Since the release date in early March of 2015, our SmartForms subscription forms have taken a variety of shapes and sizes. Once our publishers began working with them, we've really seen great examples of flexibility and customization. Getting started with SmartForms is easy and we walk you through the steps here in this quick, 4:32 minute video:
Having trouble viewing this video? Click here.
Did you know we have a FeedBlitz Support YouTube channel with tons of videos like this one? Check it out here and see how you can up the ante with your email marketing!

It really is that simple to create a sleek, customized subscription form to match the branding. Mimic the colors of your site, pull in your logo for the header, change your font, the size of your boxes and more, all while being able to Save and Preview before it ever goes live on your site.
Pro Tip: When you're designing your SmartForm, add a Classic Form to your page to capture potential subscribers. No need to miss anyone while you're debating on whether the Sky Blue or Ocean Blue subscribe button will be most effective!
Worried about having your form be responsive? No need to think twice (unless you have a separate template for your mobile site). Our SmartForms are set to max-width and are naturally responsive for all screen sizes.

What form will your subscription form take?

FeedBlitz SmartForms offer a variety of display options. We walk you through these below:
Sidebar Widget - Arguably the most popular placement for a subscription form, the sidebar widget can be as simple or complex depending on what you desire for your site.
Fun SmartForm Fact: Our SmartForms automatically sense who's a subscriber and who's not. That means the sidebar widgets collapse and the popups do not appear to those who are already subscribed.
Subscription Page - A separate subscription page is ideal for those interested in adding additional text such as your company's Terms and Conditions or Privacy Policy, additional fields (date of birth, company, website, etc.), or you would prefer to have a subscription page link.
Popup - You determine how many page views and how many seconds (20-30 seconds is average) before the Popup appears, as well as the number of days the popup appears again to non-subscribers. This form option is also great for opt in offers or grabbing a reader's attention.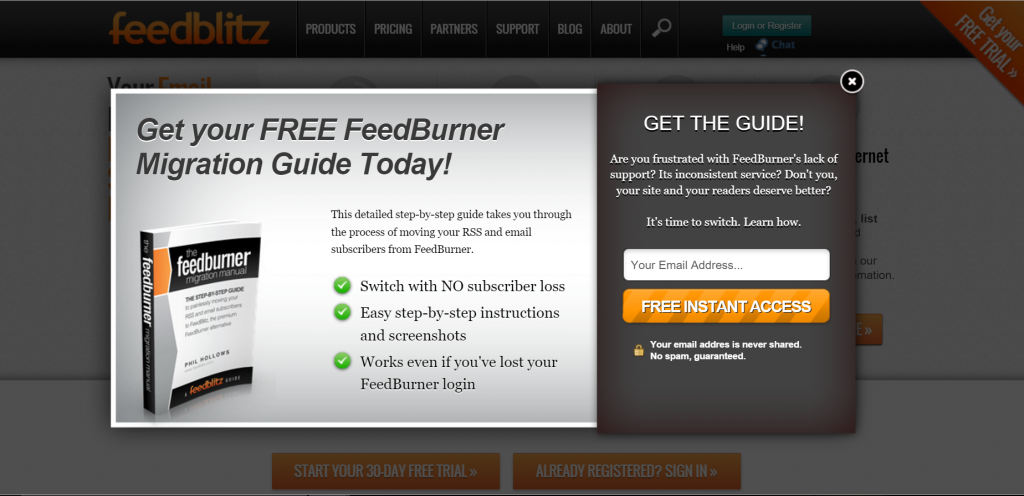 Post footer - How many times have you read a blog post and at the end you notice a line or a box that reads something along the lines of: Like what you read above? Subscribe to get our updates direct to your inbox! Imagine someone who hasn't been to your site stumbles upon your post. If they make it all the way to the end, odds are high they're interested and wouldn't mind hearing a bit more. A subscription form in the footer of your post is an ideal place to capitalize on new readers and capture their information.
Choose as many or as few forms as you'd like and create them to be as simple or complex as your site requires. The most important step is having at least one customized subscription form that fits your branding, that's easily visible for your readers to use. This one step is incredibly valuable in establishing the tools to grow your list over the coming months.